Product Description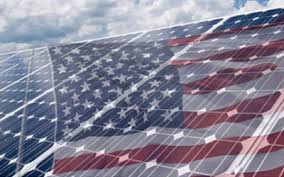 2017 Global PV Order Enquiry and PV Demand Brief
2017年全球光伏具体订单咨询和光伏需求概况
Published Date:  Nov 1, , 2017,
Consulting Service Package:
Customized  PV Market Report/ Project Financing  (+ On-site Project Visiting+Consulting)
1/3/6 Months Delivery after placing the order, depending on the consulting details
Best Sales:
New  Customer win Half Listed Price, Signed the Contract ,before Nov 31 ,2017     
Updated Based : 1 month, quarterly basis      
Report Type: Customized Period Market Report
The list full price per issue  of this kind   is starting from 12,000 USD+Customized Report Price + up,(for one issue).
Consulting Service Package:
Customized Market Report
+ Free 1-Day ON-Site Consulting
+ Free 5-Hour (Accumulated) Phone Call

  

 consultation
本类型的市场报告咨询服务内容:
定制市场报告+1天免费现场咨询+(累积)免费5小时的电话咨询。
[Full Version Market Report ]:
If you want to read full-version report, please register your account on our website wwwisharewise.com, or apply your social login account (Facebook, Twitter, QQ,,Sina ) to easily fast access directly (by 2 seconds)  to our News /New Product Section of our website (to save your registration website time) in the following link:
http://www.isharewise.com/news/
[完整版本的市场报告]:
您需要注册我们的官网www.isharewise.com,或者用您的社交网址账号登录(Facebook, Twitter, QQ,,Sina)快捷方式,2秒钟登录我们的网站(节省您的网站注册时间),在官网的"新闻"板块,或者 "新产品样品"板块,如下链接:
http://www.isharewise.com/news/
[Registration Website Account-Web Address
【注册官网用户账号网址】: 
[My Account]  -website section
[Main Report Brief is as follows] [Part of Contents]: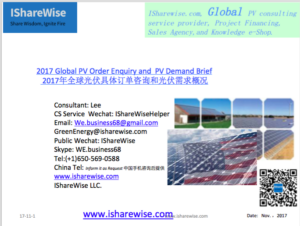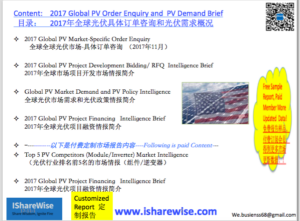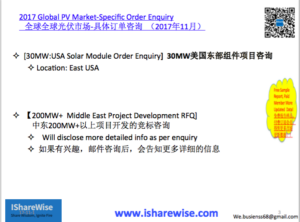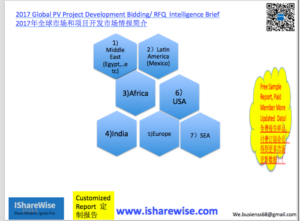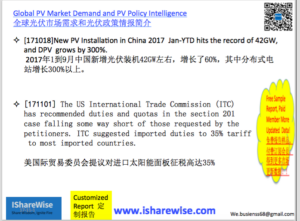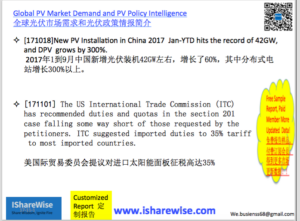 [PV Market Intelligence]
[171103] SunPower reported a net GAAP loss of US$54.2 million in the reporting Q3-17, quarter, which was lower than the previous quarter of US$93.8 million and lower again from US$399.1 million in the first quarter of 2017.The company reported a GAAP gross margin of 3.3%, down from 4.5% in the second quarter and down from 7.8% in the first quarter of 2017.SunPower reported third quarter 2017 GAAP revenue of US$477.2 million, up from US$337.4 million in the previous quarter. SunPower had previously guided third quarter GAAP revenue of US$300 million to US$350 million.The company reported total Power Plant and Solutions business unit deployments of 218MW, up from 86MW in the previous quarter.This included the completion and sale of the 69MW Gala project as well as the sale of the interconnection facility for the 100MW El Pelicano project in Chile. The company is expecting to sell the El Pelicano PV plant in the fourth quarter of 2017.
SunPower 2017 年3季度,报表损失5千4百万 美元,本季度电站和解决方案完成量218MW。包括完成非洲项目销售69MW.和 拉美智利项目销售100MW.
【171102】 Tesla  reported a 38% decline in solar system installations in Q3,2017,  deployed 109MW of energy system.
特斯拉3季报太阳能按照降低38%。
[171102] Softbank Energy, and Mitsubishi UFJ leasing are to develop 102.3MW solar PV project combined with 27MW of battery energy in Japan.
[171103] Mr. Li, Vice Director of China DOE Bureau said on CREC PV Conference in  Wuxi,Jiangshu in Nov 3, 2017 , it is the right time for China to execute Compulsory REC Quotas, and set the goal to realize grid-parity from user side in 2020. From Jan to Sept, 2017, 60% of new power generation is from renewable, 25% y.-o-y.
11月3日无锡国际能源展(CREC),国家能源司副司长,李司长说到,是中国馆的合适的时间点实行中国强制绿色能源证书的时候,并且实行中国2020年目标用电侧电价平价上网的目标。今年1月到9月,60%的新增电力增加来自新能源,年增长25%。
²[171018]New PV Installation in China 2017-YTD,   Jan-Sept,  hits the record of 42GW, and DPV  grows by 300%.
2017年1到9月中国新增光伏装机42GW左右,增长了60%,其中分布式电站增长300%以上。
²
²
[171101] The US International Trade Commission (ITC)
has recommended duties and quotas in the section 201
case falling some way short of those requested by the petitioners. ITC suggested imported duties to 35% tariff
to most imported countries.
美国际贸易委员会提议对进口太阳能面板征税高达35%
 [171103]Korean firm Hanwha Q CELLS saw shipments to the US account for around 40% of its total shipments in the second quarter of 2017.
South Korea's Ministry of Trade, Industry and Energy has said it would consider filing a complaint with the World Trade Organization (WTO) if the US brings in solar import restriction